HabsWorld.net --
When you sit down to watch the KHL, it becomes an experience. Teams have cheerleaders doing routines on a platform for entire games and fans eat corn on the cob instead of hot dogs.
That being said, the point of interest was Jakub Jerabek.
Introduction to HC Vityaz
Jerabek's team finished 10th overall in the KHL this season. They lost pretty badly to CSKA Moscow in the first round to end their playoff run.
Their defence pairings are as follow:
LD                            RD
Semenov (14 pts)    Golovkov (10 pts)
Katichev (4 pts)       Jerabek (34 pts)
Gimayev (4 pts)       Lukin (4 pts)
All of Vityaz's defence is left shooting. Jerabek is playing right defence but he looks comfortable on his off side. He played the position in every game I've watched.
Jerabek is also playing on what looks like the second pairing in terms of 5-on-5 ice time. Semenov, the captain of the team and a veteran of over 200 career NHL games, gets a bit more time with his partner. He's a giant at 6'6 and seems to be the mould Vityaz is trying to build their team from, if we exclude Jerabek at 5'10.
Jerabek's partner has a career high of eight points for a season in the KHL. He had four this past season, which contrasts with Jerabek's production of 34.
I didn't pay as much attention to Vityaz's 3rd pairing, but their highlight in the games I've watched is when Gimayev decided he had to slap shot the puck away from his own zone as soon as he got it on a defensive faceoff. Instead of rimming it around the boards, he placed it top shelf in his own net. That was his only goal of the entire season and probably the best shot I've seen him take.
This should give a little perspective on the team Jerabek was playing on.They have decent forwards overall with Maxim Afinogenov as their star.
Scouting Report
Jakub Jerabek (RD) #7 – HC Vityaz
Left Handed shooting
Defensive game
Jerabek and Katichev are not used in defensive situations as much as Semenov and Golovkov. Their coach relies on this pairing much more for defensive faceoffs.
While Jerabek's biggest flaws are in his own zone, Katichev definitely puts him in a few awkward situations per game. His partner just isn't fast enough.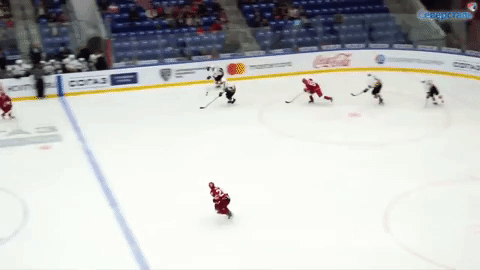 Jerabek is not a very physical defenceman and is rarely involved in board battles (they also happen less on European size ice). He will often let his partner retrieve the puck along the deep wall while he covers the front of the net. He still fights hard for the puck when he has to and can hold a forechecker well enough to give himself room to make a pass.
He plays his defensive game a bit like former Hab Andrei Markov, trying to read the attackers and use his stick work to poke check or steal the puck. He actively looks for those steals, sometimes waiting just a tad more in one on ones to get the opportunity for the takeaway.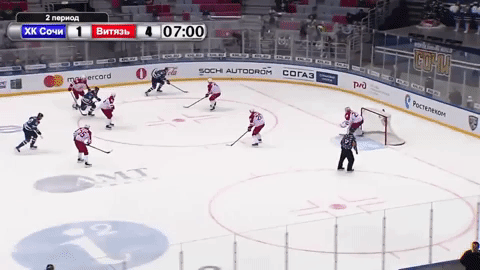 Breakouts
Jerabek loves stretch passes down centre ice. He processes the game quickly and will often attempt saucer passes to streaking teammates, something he can do with remarkable accuracy.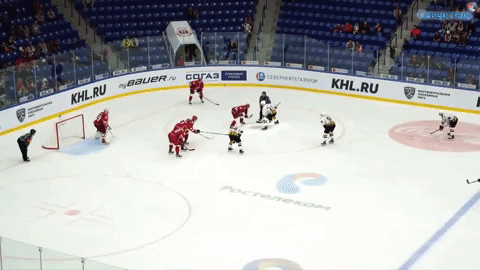 He often tries set plays off the faceoff, we can see him talking to his centre planning for those. However, the Czech defenceman has no problem recognizing when this kind of plays is not possible and being more conservative.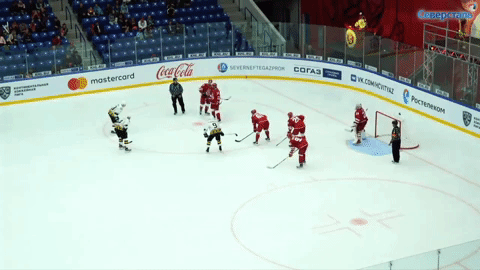 Jerabek doesn't rush the puck as much as you would expect him to. When he does, it's after receiving a pass already in his strides. He can go for some impressive neutral zone moves to get it past the opposing blue line, but he usually prefers to slow the game down to find a teammate with a pass. He rarely, even under pressure, gives up on a play to dump the puck.
He also possesses some good hands to fake out forecheckers and comes out facing his passing options. Vityaz defaults to him when he is on the ice to start the transition.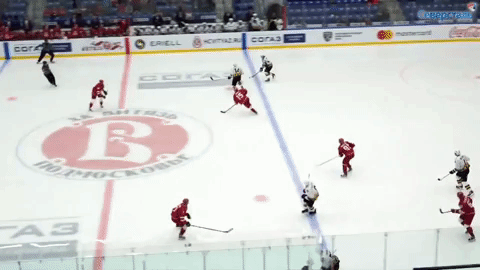 Offensive game 
This is where Jerabek shines.
He usually quarterbacks an umbrella or 1-3-1 formation on the power play, where he is the only defenceman with four forwards. The entire play goes through him as he has a great vision of the ice. He makes quick passes, pinches to keep the play alive and uses his shot to shake things up. He doesn't prefer to shoot but he can get it through.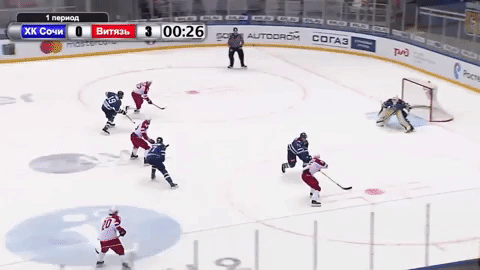 You have a glimpse of his talent in the clip above. In a difficult spot, he executes a cross-ice pass to an open teammate who gives it back to him. He then shoots for the deflection right on another guy's stick.
Jerabek creates plays just as well outside of the power play. He supports the attack very well in general and makes himself a good option on the rush.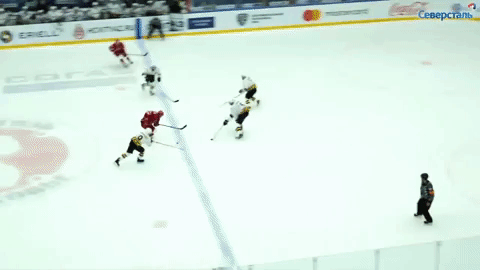 He has the skill to go around defenders and is not afraid to use the space given to him. He plays with confidence.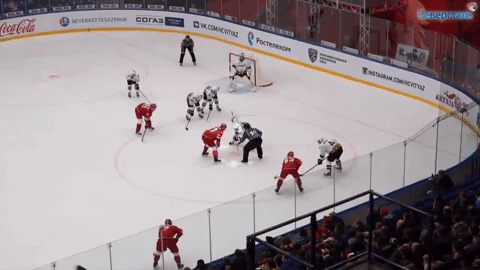 What to expect for next season?
Jerabek can make highlight reels but also simple and efficient plays. He is a quick thinker with really good vision. While he seems to have above average speed in the KHL, his skating will be a point of focus when he gets his chance with the Habs in training camp as it's a different game overseas.
It will be interesting to see how he adjust to Claude Julien's system and the smaller ice. He shouldn't be pushed around too much but he might have some trouble containing some of the better forwards.
Overall, Jerabek seems to have the tools to succeed and be a good possession player in the big league. The way he progressed during his career suggests he is not yet finished developing despite being 26 years of age.