HabsWorld.net --
Every off-season there are new rumours of KHL stars coming overseas. The Russian league is often the place to look for unknown talent at lesser costs, players having to prove they can compete in the top league in the world before earning higher paid contracts. They are generally good bets if you can stomach the possibility of a departure to another team at the end of a one year deal…
Stephane Da Costa is an intriguing player who remains one of the last free agents this summer. He had limited success in the NHL with the Ottawa Senators scoring 11 points in 47 games but spent the rest of his three years in their system being one of the best players in the AHL. In the 2014 offseason, he couldn't reach a contract agreement with Brian Murray. The centres' ask for a one-way deal was against the GM's philosophy as the 24-year-old had yet to establish himself in the lineup. He went on to sign with CSKA Moscow where his production exploded to a point per game.
Last November, in an interview with Le Bien Public, Da Costa expressed an interest in coming back to NHL for the 2017-18 season, but only if the right opportunity presented itself.
Multiple teams have called on Stephane Da Costa. He 100% intends on playing in the NHL next season. Was in KHL last 3 years.

— Darren Dreger (@DarrenDreger) June 29, 2017
What constitutes a good fit for the French player is something guaranteeing him a better situation than what he had in his last season with the Sens. Despite getting some power play opportunities and being paired with Bobby Ryan, it's hard to say he was given a fair chance to prove himself as he only played 12 games in his last season for them with an average of 10:25 of ice time. The team was fighting for a playoff spot and didn't have the luxury to develop many rookies in the NHL.
Da Costa still had his moments. His soft hands and his ability to exploit the space given to him came together to create this memorable goal versus Pittsburgh, where he faked out Marc-Andre Fleury to roof the puck short-side.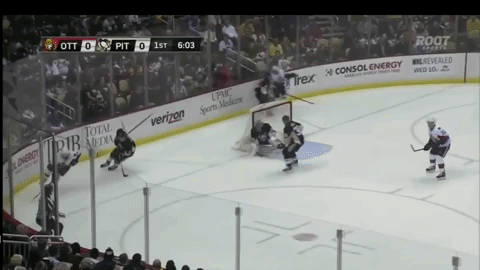 It's uncommon to get a chance like this at the NHL level. It rarely ever happens unless a lot of things go right, like a teammate being able to create a subtle enough interference on the opposing defender, breaking coverage, but not getting a penalty out of it. Unfortunately, Da Costa didn't always have such luck and the scoring chances he had with the Sens were few and far between.
While he does at time make some impressive play like the one above, Da Costa also shows some limitations that hold him back from being able to make use of his talent more often. He is not particularly quick and his top speed is average at best among NHL forwards. He also isn't physical or strong enough to keep possession under intense pressure.
Those issues narrow the space and reduce the time he has to execute plays. Yet, if he's given the opportunity, his finesse with the puck means he can get to the net or execute some delicate passes through defenders using his great vision.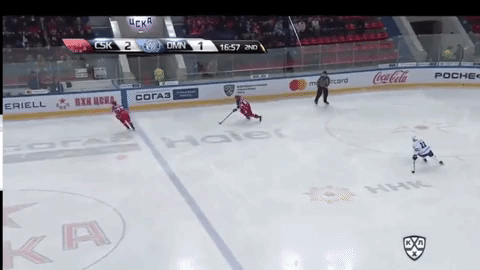 Undoubtedly, the larger ice gives more opportunities to get away from traffic, releasing Da Costa from defensive pressure and allowing him to orchestrate the offence; this, along with a large increase in ice time explain the immediate success he had in Europe. He is at his best when facing the play and having the opportunity to quickly look for passing options.
He was probably one of the best playmakers in the KHL in the last three years. While he doesn't show this sixth sense that some of the elite passers have, seemingly being able to know where you can find your teammates at all times, he has the ability to draw in defenders, hide his intentions, and reach an open guy with a pass to create a great scoring chance – not that his team is always able to follow through.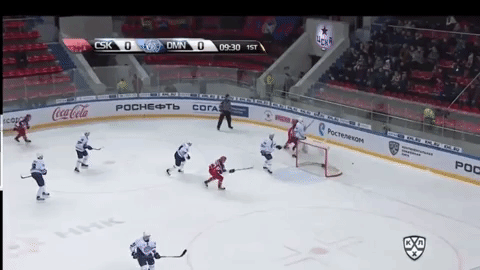 Da Costa's abilities are a constant threat on the power play. I would be curious to know how many of his 94 pts in three KHL seasons came with the man advantage (as the league doesn't seem to track that stat) but I suspect it's a lot, half of his 46 goals in three seasons with CSKA were scored on the PP.
Last season, he was used at the point for CSKA Moscow on the power play. He patrolled the ice until he could manufacture a scoring opportunity. There's no doubt that puck hugging is easier on the oversized ice but Da Costa is able to evade poke checks and outplay defenders one on one to retain possession.
His talent was also displayed at the 2017 IIHF World Championship. If we exclude the two goals he had in shootouts – as those count in IIHF tournaments – Da Costa scored five of his eight regular points on the power play.
During the tournament, Antoine Roussel and Pierre-Edouard Bellemare, his linemates, were the better skaters five-on-five. They brought more speed and toughness. However, Da Costa's abilities as a quarterback and his goal scoring touch carried France to an impressive 28% efficiency, the main reason the home team was able to have some success.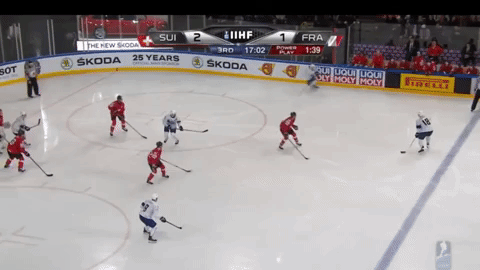 There are some legitimate concerns with Da Costa's five-on-five play. He is not a very defensively responsible player in the KHL and he won't be one in the NHL. When he's on the ice, his wingers have the assignment of supporting the defence down low, the traditional duty of the centre.
The few times per game Da Costa ends up having to play that supporting role, he looks to switch positioning with one of his wingers when possible. While he is good at getting his stick on the puck to prevent shots and he often calls assignments in his zone, his tendency to be caught flat footed makes for a few defensive breakdowns.
With a 57.1% career faceoff win percentage in the KHL, it's understandable why Da Costa is still used as a centre despite not always fitting the role. His numbers are impressive, but some players who are exceptionally good at faceoffs – like Pavel Datsyuk – can keep their percentages way above 60% in the Russian league.
If I had to guess why up and comer Jean-Gabriel Pageau played more games than Da Costa in the 2013-14 season, it would be because of a strong two-way game that Da Costa doesn't really show. The Senators were a run and gun team with multiple scoring threats at the time and the gritty Canadian centre brought something different to the lineup.
Is Stephane Da Costa bound for a successful return to the NHL?
While you can say that the right fit is needed for every player, it's especially true for a power play specialist like Da Costa. A team that is willing to try something different on the power play and needs scoring from their bottom six will probably like what they see. However, the holes he has in his game must have already convinced a lot of organizations to pass on him.
Da Costa is not a dynamic player. He's trying to come back to a game evolving to be faster and faster as NHL offences try to avoid being constantly suffocated by improving coaching systems. While there's evidence Da Costa can be a good complementary piece, he would need a strong support from more responsible partners on his line that would both help in board battles and getting into the offensive zone with possession, something he often struggles with due to his lack of speed.
The Habs could always use more offensive punch. If he can transition his game back to the NHL, Da Costa could help skillfully distribute the puck to some of their great shooters and be another offensive threat on a team that often lacks those in key situations.
That being said, I suspect he might not be willing to go for a two-way contract considering his history and that's what Montreal has on the table for him, according to a report earlier this month. The KHL star has presumably tasted a considerable pay increase overseas and might have some difficulty swallowing a decrease in salary and a prove-it contract. With Marc Bergevin being a GM who refuses to overpay for free agents, a deal might be hard to reach especially considering Da Costa's last couple of seasons shortened by injuries. The ideal situation would be a pro tryout or a contract similar to Jakub Jerabek with a European out clause.
For more scouting articles: https://scoutinghabs.wordpress.com/
polls & surveys