HabsWorld.net --
An article by Andrew Berkshire of Sportsnet earlier this offseason discussed how Alex Galchenyuk and Jonathan Drouin would fit at centre for the Canadiens. Analytics provide some interesting answers to what can be very specific questions but applying them can overlook the different situations the players were in during the season. With coaches using different offensive and defensive systems, shuffling around lines or having unique instructions for different players, it's hard to judge a skater on their involvement in the play without looking at what's happening on the ice. It can be even more misleading to compare them across teams. Not unlike Galchenyuk, who has moved from position to position and line to line, Drouin was also reassigned in Tampa's lineup a number of times.
The general narrative around the league is that Drouin is a player who hasn't really played centre. Yet, he did play that position for his entire last season in junior. It was presented to him as a challenge for a league where he was already heavily dominating. You can read about it in this interview with Dominique Ducharme, his coach with the Halifax Mooseheads.
Drouin also played centre for five games with Tampa Bay last season when Tyler Johnson got injured and a lot of their capable centres, like Vladislav Namestnikov and Cedric Paquette, were out. Jon Cooper was heavily short staffed and had to try something different to keep the Lightning's playoff hope alive.
Clips taken from Drouin's shifts during those 5 games: 
The video only examines the defensive zone where the centre has more clear duties. Drouin wears #27.
Taking occasional faceoffs as a winger doesn't provide a lot of practice, Drouin's career faceoff percentage of 44.2% in the NHL is telling of this. He had a 53.29 FO% in his last year in the QMJHL; even considering the massive difference in skill in between those leagues there's definitely room to improve those NHL numbers.
As we can expect, Drouin didn't look very comfortable in his first few shifts at centre in the NHL. He probably made his coach question his decision immediately when he tried to slide the puck between the legs of a forechecker instead of making a simpler play on the breakout.  Fortunately, he ended up executing much better on the same shift after a great hit by Braydon Coburn to regain puck possession.
Something that helped Drouin a lot at first is that NHL teams use interchangeable positions in the defensive zone, meaning that instead of a player having fixed duties and the same role every time, the coverage assignments are determined by who is closer to the puck when crossing the defensive blueline on the backcheck.
The first retreating forward (F1) will be supporting the d-men in their puck battles below the faceoff dots and covering the front of the net. This role is usually, but not always, filled by the centre. He's the player with the largest defensive responsibility.  The second forward (F2) will usually cover the cross-ice passing lanes, while the third forward (F3) will go somewhere high on the boards, intercepting a potential back pass to an opposing d-man on the point. The F2 and F3 also help with board battles when the puck gets close to them on their side of the ice.
Credit: Hockey Coaching ABCs 
As the play moves in the defensive zone, the three forwards change accordingly to maintain coverage. They try to get back to their "traditional" duties when possible by switching their position to what they are expected to do, the centre helping the defence and the wingers covering passing lanes, standing ready for a quick breakout. Certain coaches like Claude Julien ask more of the centre in terms of defensive awareness, some others are more flexible. But, all NHL teams will prefer that players be in their conventional positioning if the play allows it.
Watching Drouin's line play against Minnesota, it's evident that Drouin is not this F1 very often. His play style usually takes him deep into the offensive zone. As a result, he ends up the last man on the backcheck. This, coupled with an eagerness to receive a stretch pass on the breakout makes him less involved in the board battles and coverage in front of the net.
His natural positioning in the defensive zone, even when he is placed on the ice as a centre, is very often the high slot. If he wasn't taking every faceoff in that Minnesota game, he would easily be mistaken for a winger. This doesn't mean that Drouin isn't defensively responsible even if it isn't his priority though. He makes hard backchecks when he has to and despite being smaller than most, he isn't afraid to be physical along the boards.
Drouin's line in the Florida game was again showing this more flexible positioning in the defensive zone compared to other Tampa Bay lines. With Yanni Gourde #65 having experience as a centre and liking a more gritty game, he would more often support the d-men than Drouin.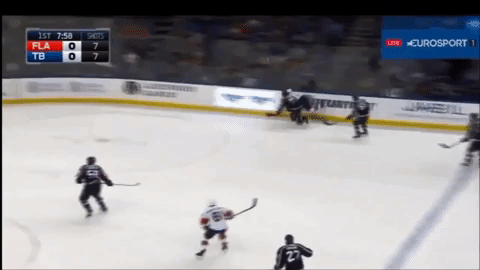 There are still moments where Drouin assumed the F1 role and Cooper trusted him enough to have him on the ice to protect the lead with two minutes left. (CLIP).
In New York and Ottawa, Drouin took more of the centre responsibilities. He had some trouble not getting cleanly beat at the defensive blueline, rapidly winning puck battles, but he was more often in a classic centre position. (CLIP). There was a visible progress from game to game.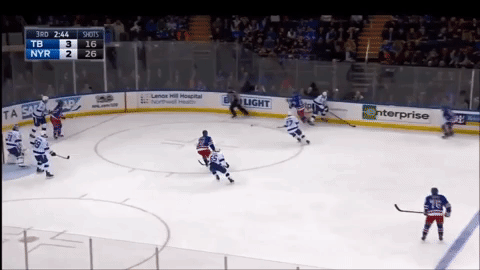 Versus Toronto, Cooper decided to put Gourde at centre after the first period instead of Drouin, ending his stint at the position where he had over five games a faceoff percentage of 55.4%. Not that his line was executing particularly poorly, but it's ideal to have your player giving you quick breakouts – Drouin – in the winger role. Also, Gourde had already been more inclined to play deep in the defensive zone. Unclear positioning assignments and switch in coverage are often the reason for defensive breakdowns happening.
Cooper's reluctance to put Gourde at centre before this point was probably due to his career faceoff percentage of 36.6%. The course of the game didn't prove his choice to be the right one as Tampa would go from a 0-0 tie to a 5-0 loss; this is of course not saying the switch caused the defeat.
Overall, there's some evidence Drouin can fill in at centre. He would need defensively sound linemates but it's doable for him. The fact that he was getting more comfortable as the games went on is a good sign. He also wasn't expecting to be in that position during the season and must have had very little coaching or training to help him during that stretch of five games in seven days. It would probably be a different story if he had more preparation.
We can't say, however, that he is a natural fit for the position. He isn't the strongest player or particularly good at pushing guys away from the puck. He has great anticipation skills, but they are mostly focused on foreseeing the breakout and not on trying to prevent the opposition's cycle. There's also a chance the added responsibilities would limit his offensive game. Considering the Habs traded for more punch on the attack, Julien would have to carefully weigh his options if he was considering a move at centre for the 22-year-old, even if it's a temporary one.
Power Play Usage
We wouldn't even talk about this position switch if this weren't the Montreal Canadiens. The most exciting thing about Drouin is not his chance of being a centre, it's his playmaking ability on the power play.
On a Lightning team that was so overflowing with talent, Drouin was still the quarterback of their 1-3-1 formation. On the faceoffs, he would start at the point with Victor Hedman but as soon as he got the puck, he walked the space given to him to find an opening for a cross-ice pass to Nikita Kucherov. He could execute those passes through heavy traffic and had the confidence to try the smallest of openings. When those wouldn't come, Drouin often skated up to force a challenge and executed a behind the back pass to Hedman for a point shot.
He's the complete package on the pp. To add to his impressive passing game, he possesses a quick wrist shot that he combines with fakes to mislead block attempts and an accurate half slapper from the blue line.
Even with the loss of Andrei Markov and Alexander Radulov, the Habs shouldn't worry about their power play next season. In Drouin, they have a fast skater that will lead controlled zone entries, an area where the Canadiens struggled last season.
How versatile is Jonathan Drouin?
No matter where he is placed, Drouin will remain true to his identity as a player. He has incredible vision and the ability to execute what he sees. If it is his aspiration, there's no reason to believe his hockey sense can't serve a more complete game with appropriate coaching, training, and time.
For more scouting articles: https://scoutinghabs.wordpress.com/
polls